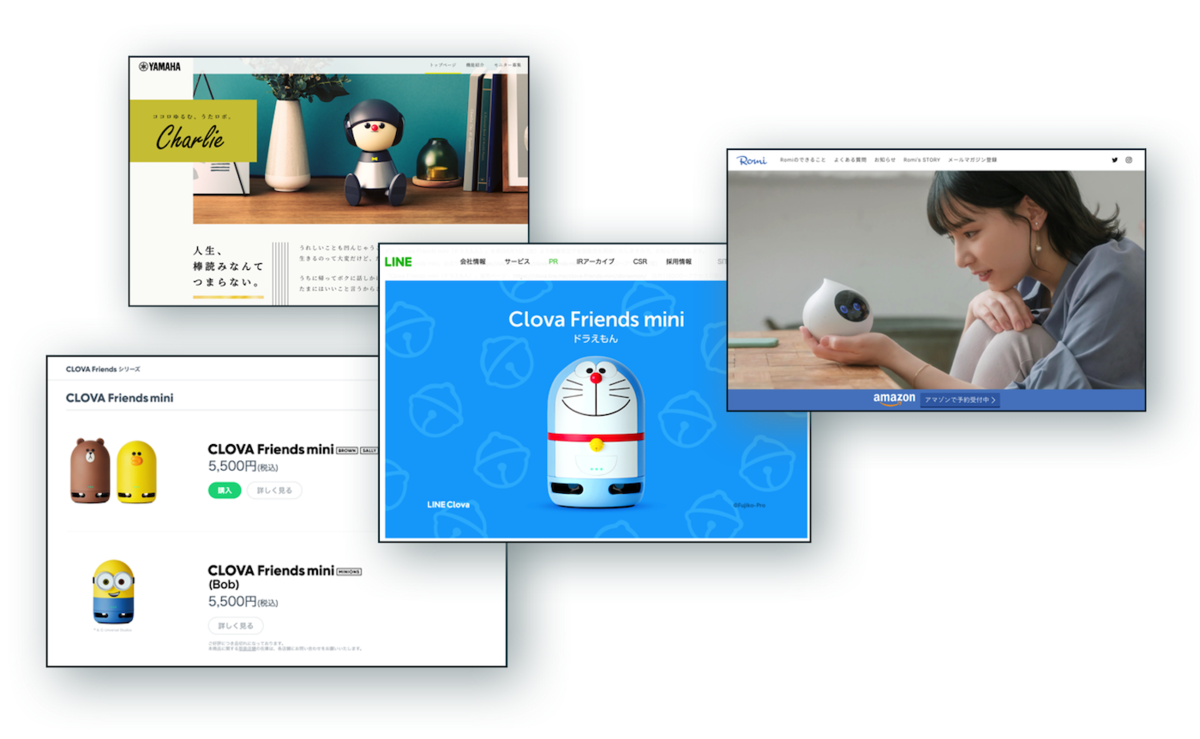 I participated in VoiceLunch Global on 1/19 because Tomoharu Ito, who is one of Alexa Champions in Japan and also one of organizers of VoiceLunch Japan district, talked about state of the voice tech in JAPAN. His talk was well-explained and so informative. I think other participants recognize the regional difference between Japan and other countries.
The whole summary of his talk is here:
BTW, one of participants ask a question which interests me. I don't remember now but It's like how Japanese people feels like current "audio speaker" looked smart assistants and if the idea of "Kawaii(cute and adorable in Japanese)" in smart speakers is important factor or not. For me, it was a kind of surprising but yes, we Japanese put more importance on "Kawaii" things and that is reflected in Japanese domestic smart speakers and voice assistants/robots.
Now am gonnal introduce some of them.
2021/1/31 Updated: added Bocco emo.
LINE CLOVA Friends/Friends mini
LINE CLOVA is the first (I think) domestically produced smart speaker by LINE Corporation, the provider of the popular Japanese communication application "LINE" (it's like WhatsApp).
The features of LINE CLOVA are
Can be connected to the LINE app on smart phones (LINE calling and messaging)
Development of smart speakers using LINE's own characters and characters of IP-owned companies
The dock (sold separately) is compatible with infrared remote control, enabling operation of home appliances by voice.
Developers can develop their own voice applications.
The features of LINE CLOVA are
In particular, CLOVA Friends comes in several variations.
Brown
Sally
DORAEMON
Minions (Bob/Kevin)
BROWN and SALLY are the official characters of LINE, and are well known for their stamps in the LINE application.
Doraemon and Minions were both sold for a limited time as part of the promotion of a new movie by characters from IP owning companies. The Doraemon and Minions LINE CLOVA Friends Mini also support voice-activated dialogues of the respective characters (although it is assumed that the dialogue of these characters is pre-recorded).
Mixi Romi
Romi is a smart speaker by Mixi Corporation, the company behind Japan's long-running social networking service, Mixi.
Romi's main feature is that it is an "autonomous conversational robot. It seems that the latest conversational AI creates a response to the user's speech each time. By not being able to predict what response will come back, the user can enjoy unexpected conversations.
Another feature of the device is that the base at the bottom of the body is movable, and when the user speaks to it, it turns in that direction, bobs up and down, and its facial expression changes depending on the response.
For conversations, no wake word is required, and sometimes Romi will suddenly talk to you.
Unfortunately, the voice recognition is not very good, and it often gives gibberish answers, but even with that out of the way, it's a smart speaker with a lot of charm.
YAMAHA Charie
Charie is the newest smart speaker from Yamaha, a company famous for its musical instruments and motorcycles. Charie's main feature is that it talks like singing.
In this movie, the owner of Charlie came home tired and stresssed from her job and she moans with Charlie, "I'm doing my best....". Then Charlie answers with singing and humor, "You are the best here only within a radius of about a mile." She answered "within a radius of about a mile? little more?". Then Charlie answers "I will give you 2 miles as an extra bonus." So humorous, isn't it?
This idea could only come from Yamaha, a musical instrument manufacturer and the developer of VOCALOID, which is a singing voice synthesizer software. Currently, Charlie is beta for the limited number of testers.
Bocco emo
Bocco emo is made by YUKAI Engineering, which is a robotics company in Japan. Bocco emo is 2nd generation of Bocco. Bocco was basically for communications between parents who has smartphones and their children who doesn't have smartphones. Bocco was very simple. It had only 2 buttons, record and play. very easy for children and elderly people. Its simpleness is the most advantage of Bocco. Basic features were:
can communicate by sending text messsages from smartphone to Bocco and Bocco can speak those.
can communicate by sending audio messages from Bocco to smart phones and app can play those.
New Bocco emo supports voice control features and can do record and play message via voice and also some general tasks such as answer the weather or schedules.
Bocco supports voice control but it does not speak general languages. Instead, it speak in "emo" language which is native language for Bocco and show some feelings via its face and moving. One more feature to notice, Bocco supports changing invocation name as you like.
Bocco/Bocco emo has completely different concept from general smart assistant. It's mainly for a family communitcations and from its simpleness, It is expected to be used in the field of nursing care and childcare.
Here's a link to English page.
Conclustion
Smart speakers and smart assistants such as Alexa and Google assitant are typically intended to answer user requests and tasks, such as asking about the weather, playing music, or setting timers. In this sense, these voice robots may not be able to answer such demands.
In reality, however, users have a wide range of needs. There may be cases where users want a voice assistant to provide them with spiritual and human attachment and healing, and I believe that these needs will continue to increase in the future.
As the variety of voice assistants increases and competition among companies becomes more active, the Japanese voice market will develop, and perhaps a unique Japanese voice service will be born.